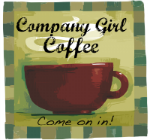 Welcome girls!  I've just purchased some vanilla spiced rum creamer so grab a mug and test it out.
This week at DD's school has been the "say no to drugs" week.  Every day it's was a new theme.  Today was Literacy Day. Dress up as your favorite book character (they don't allow the Halloween costume thing so this is the "best" option). Here is DD dressed as Junie B. Jones the boss of Lunch:
Happy and Safe Halloween to all!
Happy Friday Company Girls!
It's been a pretty decent week here. The weather hasn't been cooperative, but I can't exactly complain.  At least it hasn't been 100 degrees and my garden has been getting plenty of water.  I am now beginning to harvest green beans, the peas are blooming and the zucchini are making their debut.  I am looking forward to harvesting lima beans in a few weeks and the start of some peppers.
I made an amazing dinner the other night using lots of fresh basil from my garden for some homemade pesto – it was absolutely divine!
This weekend should be a blast; Hubby, the kids and I will be attending a big Halloween party. I hope the kids hold out through the night. It will be our first Halloween in a different location, but for some reason I still bought a bunch of candy!! Old habits die hard I guess.
Hope you all have a spooktacular Halloween!  Feel free to scroll down and check out our 2 giveaways! If you are in Texas, you could enter to win a $20 HEB gift card! We are also giving away some pink Breast Cancer Awareness goodies for our October MuMo giveaway.
Looking forward to checking out all of your posts as well. Thanks for stopping by!
~Dawn