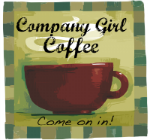 Welcome Company Girls and Other Beloved Readers!
It's 10AM on Black Friday – Have you finished your holiday shopping yet?
Girl, I'm not even thinking about that stuff today!! I am still swimming in tryptophan! lol
I hope you all had a wonderful Thanksgiving.  Ours was a whirlwind; after a completely sleepless night at my parents house (compliments of our 1 yr old's all night scream-a-thon), we left early and drove almost 4 hours to my husband's family in southern Louisiana.  Thankfully both boys slept most of the way; the baby catching up on the night's lost sleep and the older boy in a benadryl induced snooze courtesy of some troublesome allergies.
It was a lovely drive.
Lunch was a big, beautiful, tasty blur, and afterward we headed over to my hubby's grandmother's house to visit with her for a bit.  At which time, I sat down in her chair and promptly passed out, sound asleep.
ahem.
So, I guess I didn't get to visit much, but it was nice that my family just let me snore and drool for a brief, refreshing cat nap.  It was probably the one thing that allowed me to remain awake for the drive back to Houston that night.(with the help of a gigantic coffee…)
Oh yeah, almost 4 more hours in the car. Awesome!
The trip to Houston was a little more interesting.  The baby made sure to keep us all awake by screaming loud enough to shatter the windows every few miles.
Thankfully though, we didn't hit any traffic, so it was an uneventful drive.  Though, we did have to stop at three different places to get gas before we left.  But that is a long story for another post.  I will most likely talk about it over on my personal blog, which will be up later today (after I catch up on a week's worth of posting. ugh).
Kim will not be contributing today as she is on the road herself visiting family up in Dallas and Oklahoma.  But she sends her love.  …and some left over gravy.
Thanks so much for stopping by! I can't wait to read about your holiday week.
Until,
Dawn